Instructions of Beter Disposal Infusion Pump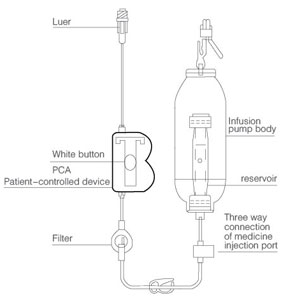 ● Adopt sterile syringe to extract liquor, take down the anti-bacteria cap on infusion pump body. Insert the 6:100 inject liquor and tighten the connection of dosing joint of infusion tube and one-way valve. BETER INFUSION PUMP is a widely applied medical equipment for continuous infusion.
● It has constant flow rate which is realized by built-in flow rate control and the positive pressure of reservoir.
● Whether the pressure of the reservoir is constant or not will determine on the stability and continuity of flow rate.
● The reservoir of Beter Infusion Pump is made of special gelatin of the most constant resilience force, with a view to ensure the most stable and constant flow rate for infusion pump. It needs no additional electronic equipments or others. It is available to partients in hospital and out of hospital.
● It has simple and safe operations. The end of analgesic pump is equipped with Luer joint which can connect to standard dosing apparatus.
● Whole sterilization of infusion pump is done by Ethyiene Oxide.